Protect Your Loved Ones' Future with Life Insurance
Providing Financial Security When It Matters Most
Welcome to SimpliWealth, where we understand the importance of safeguarding your family's financial future.
Life insurance is more than just a policy – it's a powerful tool that offers peace of mind and ensures your loved ones are protected in the event of the unexpected.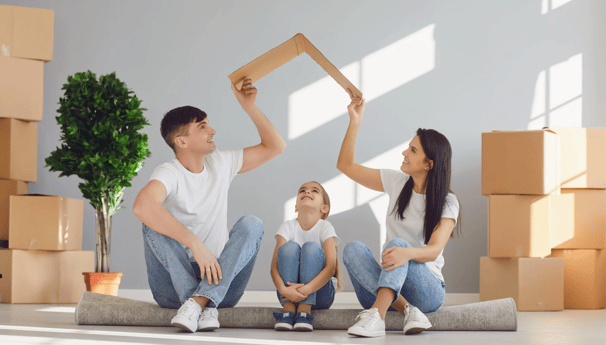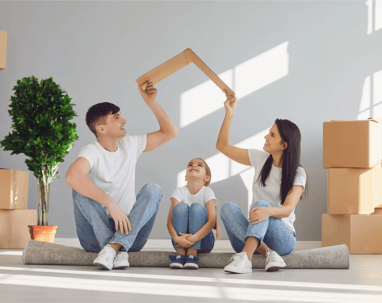 Why Life Insurance is Needed
Life is unpredictable, and it's crucial to plan for the unexpected. That's where life insurance steps in. Life insurance serves as a safety net for your family, providing them with financial stability and security when they need it most. Here's why life insurance is essential: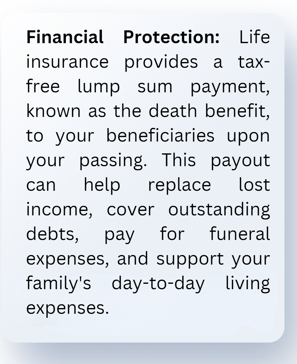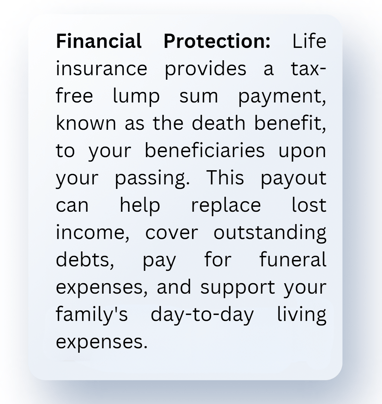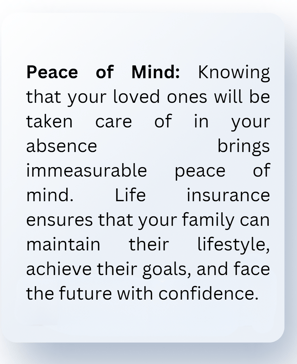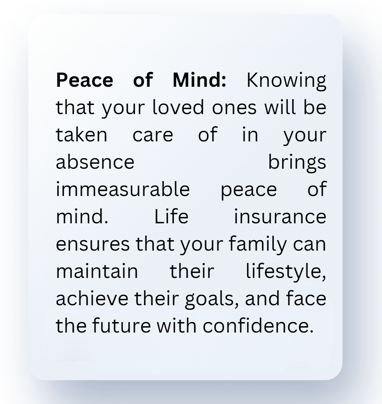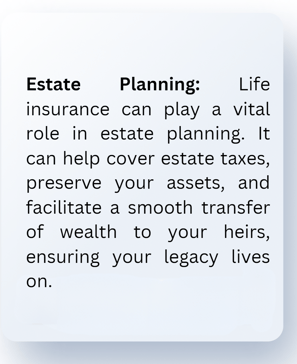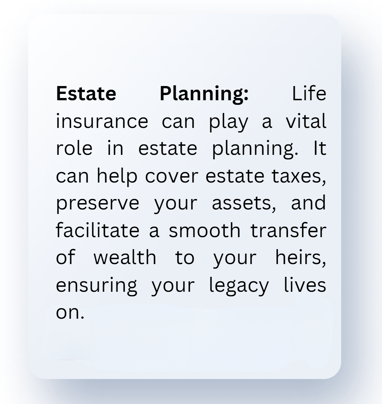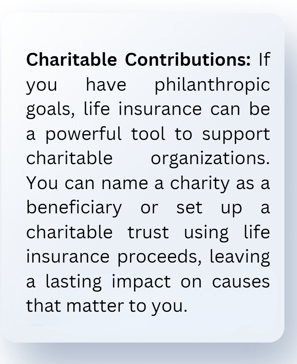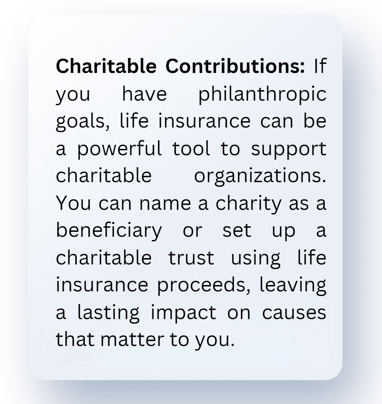 Understanding the Difference: Insurance vs. Investments
When it comes to securing your financial future, it's essential to differentiate between insurance and investments. While both play significant roles, they serve different purposes:
Risk Management Tool: Life insurance is primarily a risk management tool designed to provide financial protection to your loved ones in the event of your untimely passing. It ensures that your family is financially secure by offering a death benefit that can cover expenses like funeral costs, debts, and ongoing living expenses.
Long-Term Wealth Creation: Investments, on the other hand, are focused on long-term wealth creation and achieving financial goals. They allow you to grow your money over time through various vehicles such as stocks, bonds, mutual funds, and real estate.
It's crucial to understand that life insurance should not be seen as an investment vehicle to generate substantial returns. Its primary purpose is to mitigate risk and provide financial support to your beneficiaries.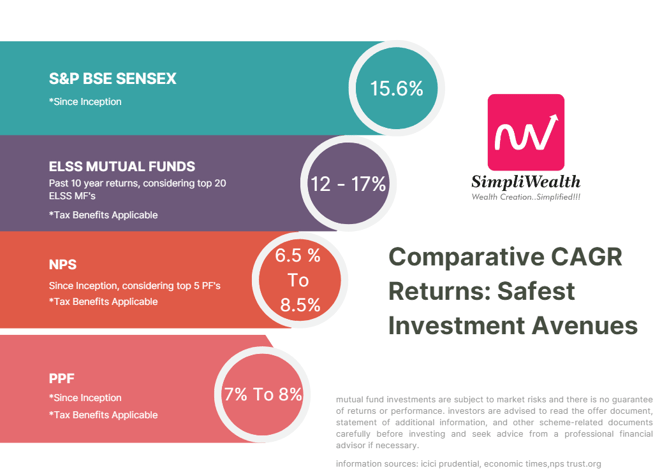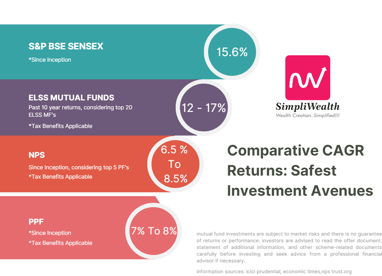 Why Term Life Insurance is the Ideal Choice over Investment-Linked Insurance Schemes
Focused Protection: Term insurance provides pure financial protection to your loved ones, ensuring their financial security in the event of your untimely demise.
Affordability: Term insurance offers cost-effective premiums, making it easier to maintain coverage over a longer duration.
Flexibility: Choose the policy term and coverage amount that align with your specific needs and provide optimal financial protection for your family.
Higher Coverage Amount: With lower premiums, term insurance allows you to afford a higher coverage amount, providing substantial financial support to your beneficiaries.
Separation of Insurance and Investments: Opting for term insurance ensures that you prioritize risk management, rather than relying on the investment component for significant returns.
Remember, term insurance provides essential protection while separate investment avenues can be explored for better returns aligned with your financial goals.
Enhance Your Term Life Insurance with Essential Riders
CRITICAL ILLNESS BENEFIT: Comprehensive Protection against 34 Life-Threatening Illnesses: Receive Claim on First Diagnosis, No Hospital Bills Required. Life Cover Continues with Reduced Benefit after Critical Illness Claim.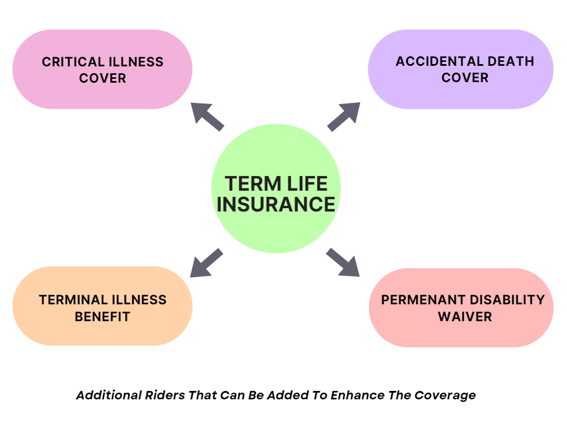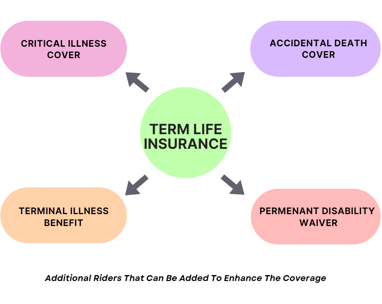 ACCIDENTAL DEATH COVER : Allows your nominee to receive a higher payout in the event of your unfortunate demise due to an accident. This additional coverage can provide protection of up to ₹2 crore, providing greater financial security for your loved ones.
TERMINAL ILLNESS BENEFIT: In case the policyholder is diagnosed with a terminal illness, the term insurance policy provides the full death benefit payout.
PERMENANT DISABILITY WAIVER: If the policyholder experiences permanent disability resulting from an accident, all subsequent premiums are waived off, ensuring that the life cover remains intact for the remaining policy duration.
Unlocking the Ease of Buying Term Life Insurance


Tailored Coverage:
Choose a life cover that suits your needs, whether it's up to the age of 100 or a specific age limit. With term life insurance, you have the freedom to customize your coverage duration for ultimate peace of mind.
Convenient Premium Payments:
Enjoy flexibility in premium payments. Pay monthly or opt for annual installments to suit your budget and financial planning. You can even select alternative payment options like 5, 10, or 15-year installments, or until the age of 60.
Secure Your Loved Ones: 25 Times Annual Income:
Ensure your family's financial stability by securing a life insurance cover that is at least 25 times your annual income. Term life insurance allows you to adjust the coverage amount, providing a solid foundation of protection.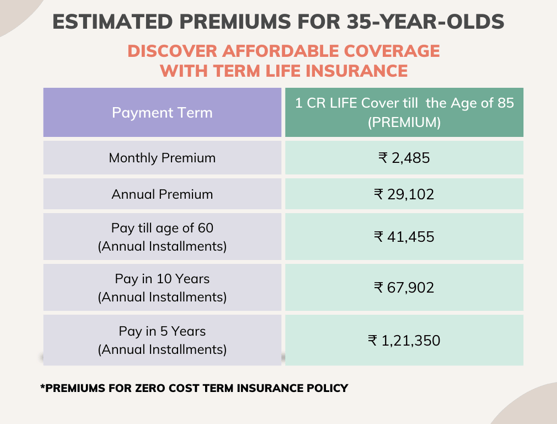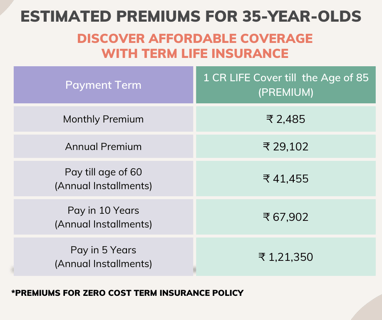 A zero cost term insurance policy is a unique plan that allows policyholders to receive a refund of all premiums paid (excluding GST) and exit the policy once their financial obligations are fulfilled, typically between the ages of 61 and 80.
Please note that premiums are subject to change over time. The premium information provided above is accurate as of May 2023.
we've made every effort to provide you with essential information about life insurance to empower you in making informed financial decisions.
If you have any questions or require assistance in purchasing a policy, our team is here to help.
Contact us today to secure your financial future with the right life insurance coverage. Take the first step towards financial protection and peace of mind.